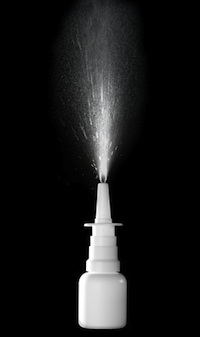 Insulin Relieves Alzheimer's Symptoms
Gretchen Heuring for ElderThink
Insulin Given By Spray Through Nose Helps Alzheimer's
Researchers from the University of Washington have reported that insulin given by spray through the nose could help with memory and functioning in Alzheimer's patients. Using nasal pathways allows the insulin to reach effected brain areas. To be effective, the treatment needs to be administered twice a day.
Alzheimer's Patients Do Have Lower Insulin Levels
It has been recognized for some time that patients with Alzheimer's Disease have reduced brain-insulin signaling as well as lower levels of insulin in the spinal fluid. In one study, diabetic members who started metformin (nasal insulin) were less likely to develop dementia later on. This new research might provide clues to the link between Type 2 (late onset) diabetes and Alzheimer's. Researchers know there is a relationship but haven't been sure why it is there. Last year, a research team from Northwestern University concluded that anti-diabetic drugs shield against proteins that block memory.
Astonishing Result of Japanese Study
To support this idea, researchers from Kyusho University, Fukouoka, Japan, reported on a study of nearly three thousand people over forty years. Their work reveals that people with Type 2 Diabetes and who also have Alzheimer's will have a much more rapid acceleration of the Alzheimer's symptoms.
---
Dr. William Klein from Northwestern University talks about Insulin and Alzheimer's symptoms. Is Alzheimer's a form of Diabetes?