Parents Surprise Us

Our Parents Get Older Too
Gretchen Heuring | ElderThink | 04.04.09
In his book, How to Say It to Seniors, David Solie says, "Aging is seen as being an adult, just older." He says we see our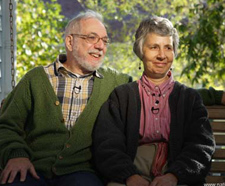 parents as older versions of the people they have always been.
As people age, there are physical, mental and emotional changes. Some are positive and some are not. Eventually, our parents will need our help in ways we do not expect. We will become them. We should pay attention.
We are prepared to manage little children and difficult teenagers. After all, we have been there and lived those lives. We have not been our parents' age. We need to learn what motivates older persons.
The first and greatest need for older people is to maintain control. They find control slipping away through loss of friends and loved ones, through loss of their physical abilities, loss of the respect and appreciation of other people, and loss of dreams and plans for the future. The need for control is behind almost every decision they make (or do not make)
When we allow the control and find ways to support their decisions, the results can be astounding. Our relationship with them prospers.
The second quest for older people is Purpose. During this stage in their lives, they find a need to discover their purpose. By looking back on the events of their lives (sometimes repeatedly,) they are reviewing and redefining who they are. It is an important developmental process during the end of life.
We can help by simply asking, "What does that experience or memory mean to you now?" This question will help them fit together the puzzle pieces of their lives. We can learn from their answers, too.
Last but by no means least, older people have more medical problems. This may mean that their bodies do not work as well as they did when they were younger, but in spite of popular opinion, the brain and the spirit can continue to grow.
Our interest and affection for older people is a tremendous gift. We must give it generously.
---
The Fire Department and the Left On Stove
Maureen Lopez | TopElderCares.com
Today your parents are still active – traveling, working in the yard, volunteering, helping you with family issues. Then, one day, you realize that they look and act differently – moving with more difficulty, cutting back on social activities or forgetting important dates. Worse, you find out the fire department had to come to their house because they left the stove on too long – or worse.
Knowing their biological age won't tell you when this change will happen but the likelihood increases after age 80. If an acute illness, such as heart disease or cancer doesn't take them early, the aging process can go on for years without them or you realizing how the changes accumulate over time.