Making Friends

People Forget How To Make Friends
Gretchen Heuring | ElderThink | 10.01.10
Loss is part of growing older. We lose the youthful appearance that is so highly prized by our culture, we lose some of the experiences we have enjoyed such as athletics or driving a car,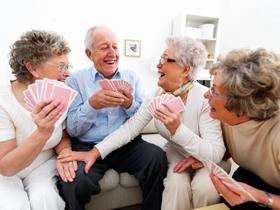 and we lose eyesight, hearing, and feeling well.
The greatest losses involve our friends. They may move away to be closer to loved ones or into an assisted living situation. They die.
Gradually, older people find themselves lonely and isolated without so much that has enriched their lives. They often have forgotten how to make friends.
Actually, it's possible to make a new friend anywhere. Even in front of the lettuce in the grocery store. It all begins with a smile and a question. So here are the steps:
1. Actually look at the person and smile. Then ask a question such as "What is your favorite salad?"
2. Then listen with interest because, of course, now you will want to know what this new person likes about salad.
3. While you are listening, allow another question to pop into your mind. Don't worry about what YOU will say, worry about what the new person is telling you. Allow your natural curiosity to kick in.
4. Soon, unless the person is in an enormous hurry, you will have a conversation.
Next time you see this person in the grocery store, you can smile and you will have something from that first conversation to ask about.
Try it. It will make you feel wonderful. You might not meet this new person in a grocery store. It might be in the doctor's waiting room or at your pet groomer's or at church. The steps are the same. Smile, be curious, be interested, listen.
---