Gifts for Tweens
Special Gifts for Pre-Teens
Gretchen Heuring | ElderThink | 04.24.09
At the "Tween Age" (sometime between age 9 and 11) differences between girls and boys really stand out. Young people this age may have one or two friends of the opposite sex, but most friends are as much like them as possible. Tweens identify very closely with their peers and the most perfect gift from you might see unappreciated. It's not the gift, though. It's because it came someone outside the accepted group.
Often young people this age are truly wonderful because they are exploring their own strengths including generosity and compassion.
Pre-teen Girl Gifts: Something Within
(Scroll down for boys...ladies first!)
We know it seems like the most important task for "tween" ladies is to perfect the eye roll. Nevertheless, there is a soft spot deep inside that enjoys certain gifts. She may run to her room and hide your gift, but she will love one of these forever.
A small box with a smaller gift inside. Choose a small
decorated metal box. Some have hinged lids and others pull apart. Inside you would place a simple silver chain, or an ankle bracelet, or a tiny note with a poem in it from you, or even a small photo of you or the two of you.
A ball of yarn or ribbon with charms. As you wind the ball or yarn or ribbon, tie in tiny gifts. These could be charms for a bracelet, miniature items, or little notes and photos. Be sure to wind the best in first so she will reach it last.
I shop for tiny gifts all year. The best part of these gifts is that you can give them over and over.
A workbook. Yes, a workbook. There are three on the market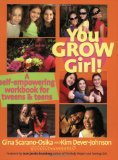 just now. (1) You Grow Girl! A self-empowering workbook for tweens and teens; (2) Girls Inc. Presents: You're Amazing! A no-pressure guide to being Your best self
; and (3) GirlWise how to be confident, capable, cool, and in control
.
Of course an excellent gift would be yourself. Take a pre-teen out for lunch at an elegant restaurant. Charm her a little. An experience a young lady will not forget.
Preteen Boy Gifts
This is a time when young boys begin to think about the world around them. At this "tween" age they often develop a strong sense of compassion and are interested in how other people feel and think. They want to have real conversations with adults.
Boys this age are often focused on their size and strength. A set of small weights, exercise and balance balls, or resistance bands make great gifts for Tween boys.
Bicycle Accessories that flash or glow or make noise are exciting gifts for Tween boys. They can show off to each otherand, of course, to any girls who might be watching.
Science Kits are fun and innovative. They usually come with everything needed to challenge the young active mind. Tween boys are still interested in exploring things all by themselves.
Zoos and Museums Don't forget the gift of yourself. A visit to a zoo or a museum or a good long hike will never be forgotten.