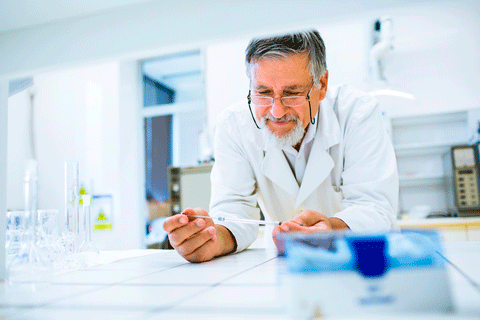 Blood Test May Predict Alzheimer's
Gretchen Heuring for ElderThink 3.10.14
James Gallagher, Health and Science reporter for BBC News, tells us that researchers have announced a blood test that can predict Alzheimer's Disease.
Test Predicts With 90% Accuracy
Researchers at Georgetown University have developed a blood test can accurately predict the onset of Alzheimer's Disease. They showed that testing levels of 10 fats in the blood could predict - with 90% accuracy - the risk of the disease coming on in the next three years.
Finding Such A Test Has Been Major Priority
Their findings, published in Nature Medicine, will now be tested in larger clinical trials. Experts said the results needed to be confirmed, but such a test would be "a real step forward". The disease silently attacks the brain for more than a decade before any symptoms emerge. Doctors think drug trials are failing because patients are simply being treated too late to make a difference. This is why discovering a test that predicts the risk of dementia is a major priority for the field.
10% Of A Group Studied Over 5 Years
Scientists at Georgetown University in Washington DC analysed blood samples from 525 people over the age of 70 as part of a five-year study. They took 53 of them who developed Alzheimer's or mild cognitive impairment and compared their blood with 53 who stayed mentally agile. They found differences in the levels of 10 lipids, or fats, between the two groups. And when the research team looked in the other blood samples, those 10 markers of Alzheimer's could predict who was likely to enter mental decline in the following years.
Needs To Be Studied With Larger Number
Howard Federoff, professor of neurology at Georgetown University Medical Center, told the BBC: "I think there is a huge need for a test. "But we must look at larger numbers of people before this could be used in clinical practice." The full power of the test has not been investigated either. So far they know a diagnosis of dementia can be predicted three years ahead of time, but the researchers are now investigating whether the test works even earlier.
Treatment Could Begin Earlier
It is not clear exactly what is causing the change in fats in the blood, but it could be a residue of the early changes in the brain. A successful test for Alzheimer's could transform medical research and treatment drugs could be tested at a much earlier stage in the disease. Prof Federoff said slowing the pace of the disease could have a huge impact: "Even a short delay of symptoms will have a tremendous economic benefit just in terms of the cost of care."
More Volunteers Needed For Clinical Trials
Dr Simon Ridley, from Alzheimer's Research UK, said the findings were "encouraging" and that a blood test would be a "real step forward". He added: "To test the effectiveness of potential new drugs, it's important to be able to recruit people to clinical trials in the early stages of the disease, when such treatments are most likely to be effective. If confirmed, these results could also aid efforts to develop better tools for diagnosing Alzheimer's - allowing people with the disease to access crucial support and existing treatments sooner."
The Alzheimer's Society's Dr Doug Brown said the test needed to be investigated further, but could pose ethical challenges. "If this does develop in the future people must be given a choice about whether they would want to know, and fully understand the implications."
---